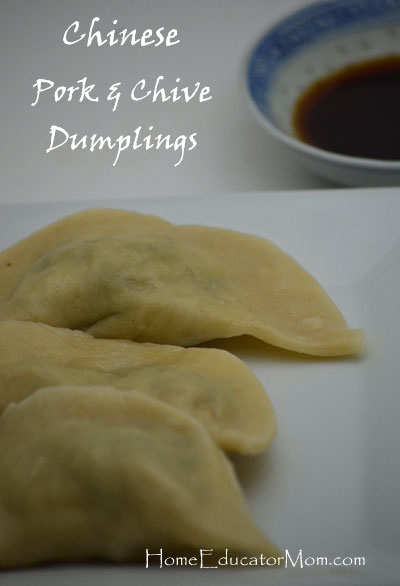 I love Chinese dumplings. In fact, one of the things that I look forward to whenever I visit San Francisco is devouring some of the yummiest Chinese dumplings. To help us celebrate Chinese New Year, I decided to give it a shot at making my own dumplings. This is called  jiaozi in Chinese. This is a real easy recipe and the clan rolled up their sleeves and got involved. They even turned some into playdough, but that's another story.
We made two batches: one with unbleached white flour and the other with half whole wheat and half white. My kids loved both. For the mixed flour batch, see notes below. Here's what we did for the white flour ones:
Ingredients: (for the filling)

1/2 pound ground pork
1 cup of chopped Chinese chives (also known as garlic chives or Chinese leeks)
1/4 teaspoon salt
1 1/2 teaspoon rice wine
A few dashes of white pepper powder
5 drops of sesame oil

For the skin:

2 cups unbleached white flour
1/2 cups water

Instructions:

Mix the flour with water and knead it for about 20-25 minutes or until the dough gets soft. Separate the dough into two equal portions and roll them into cylinders (about 1 inch in diameter). Cover them with wet towel and set aside.

Prepare the chives by chopping off the root (white part) of the chives. Use only the green part. Chop chives into small sections. Mix the chives with ground pork and add all the seasonings. Chill in fridge for 30 minutes or more.

To prepare the skin, cut the dough into 1/8 to 1/4 in. length. (closer to 1/8 if you prefer thinner skin)On a floured surface, using a rolling pin, flatten the dough until it becomes a round skin about 3 inch in diameter.

Put about 1 Tbsp of filling into the center of the skin and seal it up tightly with your fingers. Seal skin with water if needed.

Heat up a pot of water on high until it boils. Drop the dumplings into the boiling water and bring water back to a boil.

Cover the pot and turn heat to medium for about 5 minutes.

When dumplings are done, scoop them out on a serving plate. Serve hot with Homemade Ponzo Sauce or Orange-Ginger Dipping Sauce or your favorite vinegar-based dipping sauce.
Enjoy!
Notes: For one cup of white and one cup of whole wheat flour, I used 1/2 cup water plus 2 Tbsp more.   The rest of the instructions are the same as above. Dumplings could be made ahead for freezing. I freezed a batch on my cookie sheet then stored in ziplock bags once they are frozen. Cooking time is slightly longer for frozen ones.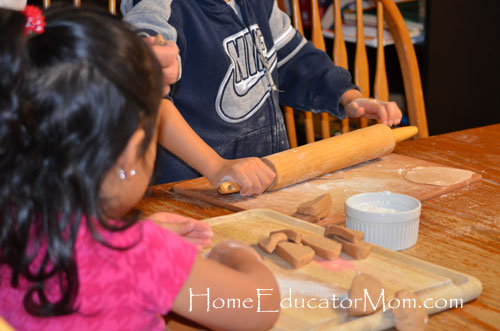 Here's Chico and Mei Mei attempting to help.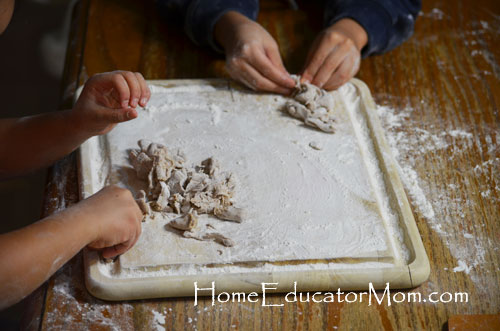 Chico and Mei Mei decided to have some fun and made some playdough instead.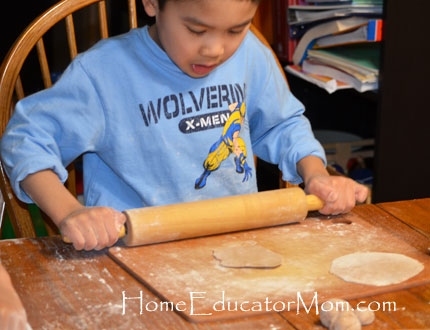 Buddy rolling out the semi-whole wheat dough.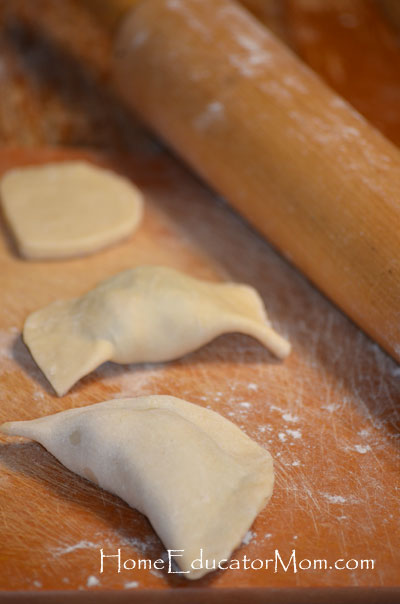 Here's our dumplings made with white flour.