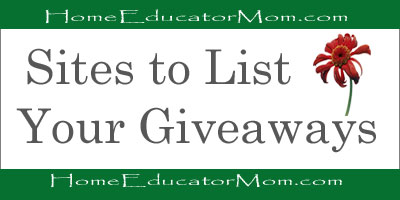 The following is a list of giveaway sites that I've comprised. These giveaway sites are ones that I've come across and  have used. I will periodically add more to this giveaway site list as I come across them. If you know of other giveaway sites, please shoot me a message or leave a comment.
Ongoing Giveaway Sites:
Online Sweepstakes (Need to be a member)
By Hand Giveaways (Handmade items)
Winning Readings (Family-friendly books)
San Frontiers Giveaways (International Giveaways)
Canadian Mommy Giveaways (Ok to list US Giveaways)
Weekly Blog Linkys:
Monday Giveaway Sites
Tuesday Giveaway Sites
Two of a Kind, Working on a Full House
Wednesday Giveaway Sites
Thursday Giveaway Sites
Mom Vs the Boys (Canadian Friendly Giveaways)
Keeping Up With the Rheinlanders
Maple Leaf Mommy (All giveaways must be Canadian friendly)
Friday Giveaway Sites
The Busy Woman's Guide to Surviving Motherhood
Musings From a Stay At Home Mom
Saturday Giveaway Sites
The Life of Rylie…and Bryce Too!
Sunday Giveaway Sites