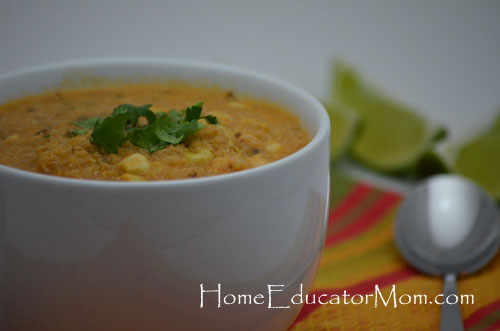 During the crisp, cold days of fall, one of our favorite meals is soup. We love a variety of soups like Brown Rice Porridge in a Crockpot, and here's another one that we recently came across and have fallen in love with. My friend Donna introduced me to this Peruvian Quinoa Soup. Did you know that quinoa is a great source of protein? To learn more about quinoa, read How to Cook Quinoa, whfoods.com.
Ingredients
1 pound peeled and deveined raw shrimp, roughly chopped
2 teaspoons sea salt (divided)
2 tablespoons coconut oil or oil of your choice
1 bunch scallions (about 6), whites and green tops thinly sliced
3 cloves minced garlic
1 to 2 jalapeño chiles, seeded and minced
1/4 cup tomato paste
2 teaspoons ground cumin
1 tablespoon dried leaf oregano (not powdered)
2/3 cup quinoa, rinsed and drained
6 cups homemade or purchased gluten-free chicken broth or water
1 cup corn kernels (defrosted if frozen)
¼ cup coconut milk creamer or half-and-half
1/2 teaspoon freshly ground black pepper
1/3 cup chopped fresh cilantro
Lime wedges, for serving
Instructions
Put the shrimp in a colander over the sink and toss them with 1 teaspoon of the salt. Let stand until ready to use. (Use within about 30 minutes or refrigerate.)
In a large pot, heat the oil over moderate heat. Add the scallions and cook until starting to soften, about 2 minutes. Add the garlic and jalapeños and cook 1 minute longer. Stir in the tomato paste, cumin and oregano and cook until fragrant, about 2 minutes more.
Add the quinoa and chicken broth to the pot. Bring to a boil. Reduce the heat and simmer, covered, until the quinoa is cooked, about 12 minutes. Stir in the corn, half-and-half and the remaining 1 teaspoon of salt. Simmer gently until the corn is cooked, about 5 minutes.
Stir in the shrimp and the black pepper. Cook until the shrimp just turns pink, about 3 minutes. Stir in the cilantro. Serve the soup with a squeeze of fresh lime juice. Served alone or with your favorite fall salad.
Makes 6 servings.
Note: you can substitute chicken for shrimp. To make it spicier, add extra jalapeno at the end.
Adapted from the Oregonian Food Day.
For porridge recipe, click Brow Rice Chicken Porridge in a Crock Pot. For a kale soup recipe, click Zuppa Soup.