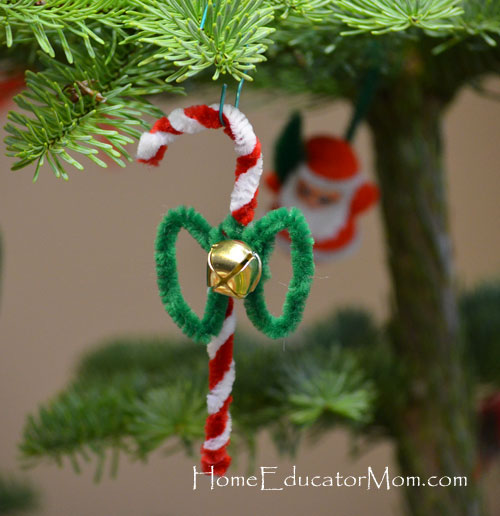 As I was looking through my Christmas stuff, I found some more read and white pipe cleaners and my kids wanted to make some chenille stem candy canes as they brought back memories of Christmas past. This is one memorable craft that your kids can do and be reminded of the reality of God's love as He came to live as one of us.
 Supplies:
1/2 Red Chenille Stem (or Pipe Cleaner)
½ White Chenille Stem (or Pipe Cleaner)
Scissors
1 Green Chenille Stem (or Pipe Cleaner) (Optional)
Bell (Optional)
Directions:
1. Twist the red and white chenille stems together.
2. Form into a candy cane, and trim the ends if needed.
3. To make a bow with green chenille stem, first make a loop on one end, then string the bell through. Make another loop. Adjust the bell so that it sits in the middle of the two loops. Using the remaining of the green chenille stem wrap the bow around the candy cane.
4. Candy canes could be used as  a Christmas ornament.
To view the Candy Cane Poem  and related children's books see the post on Christmas Craft for Kids: Beaded Candy Cane.
Enjoy!