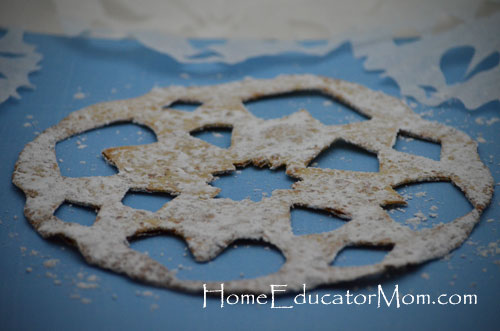 In keeping with the season and continuing on our reading of Snip, Snip… Snow! and other snow books, I decided to do an edible snowflake activity with the kids. They had a fun time and the best part was eating it.  Here's how:
Ingredients:
Flour tortillas, any vegetable oil (I used grapeseed oil), powdered sugar, parchment paper.
Instructions:
Preheat the oven to 400 degrees. Microwave the tortillas for about 10-15 seconds until they are soft and warm. Fold each tortilla as if you were folding paper or coffee filter to make a snowflake. Read this post Snip, Snip… Snow! on how to cut snowflake instructions. Use kitchen scissors to cut shapes…just like you were using paper. Unfold the tortilla. Lay parchment paper on cookie sheet and brush oil on both sides of snowflake. Bake the snowflake on the cookie sheet for about 5 minutes or until it's lightly browned and crisp. Remove from oven and sprinkle with powdered sugar or any other edible toppings you would like. Now, enjoy this yummy treat!
Note: In my quest for healthier options, I tried using whole wheat tortillas, but sadly they tasted like chewy cardboard, so you're better off sticking with your white flour tortillas.
For instructions on making colorful snowflakes, read this post Colorful Snowflakes.
Recipe adapted from MamaJenn.