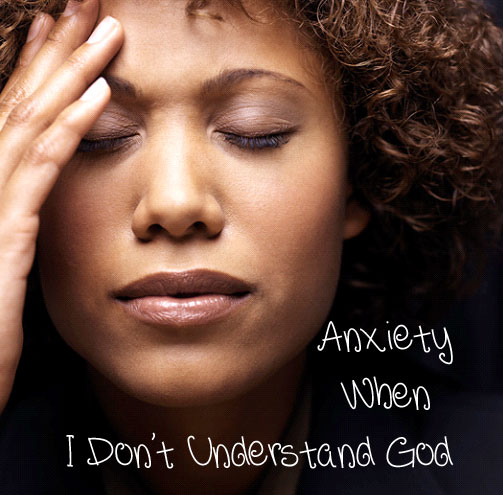 This side of heaven, life often doesn't make sense. The best thing to do is stop and listen.
Sometimes our family will be sitting at the dinner table discussing plans for the upcoming weekend.  "No one told me about that!" someone will protest.
"Where have you been?" we reply.  "We've been talking about that event all week!"
On many occasions, I've asked my oldest son to complete a task or have given him directions on where to find a missing item.  Although I speak the words aloud, his channel finder is tuned elsewhere and he often doesn't hear a thing I'm saying.
Before we left for a week away from our children, my husband and I looked our then 16-month-old baby in the eyes and told him we were leaving, but we would be back soon.  His young brain couldn't translate the words into usable meanings. So, in spite of my warnings, he woke up confused and irritated to find someone besides Mommy or Daddy looking over his crib.  But you can't say I didn't warn him!
Jesus told the disciples all about His coming suffering, death, and resurrection, but they didn't get it.  But you can't say He didn't warn them.
Hours after His resurrection, Jesus walked along the road to Emmaus with two friends and explained the Scriptures in a way they had never comprehended before.  The suffering, death, and resurrection of the Messiah shone from every passage and fell into place like an intricately planned pattern.  God had not been silent before that day—they simply had not understood the words before.
The disciples had more than the Scriptures, which came into sharp focus on hindsight.  They had Jesus with them—the One who revealed the glory and will of God daily.  They heard with their own ears His very direct and pointed explanation of what was to come, but their hearts could not absorb it.
We beg God to explain His plan, but many times, He already has.  Perhaps our minds are distracted with the worries of the world.  Perhaps we don't know the Scripture and thus don't know the heart of God—a knowledge we need in order to comprehend and trust His ways.  Perhaps we haven't come to spiritual maturity—just as our baby boy was too young to comprehend what our older children readily understand.  Or perhaps the understanding is beyond our reach.  God could tell us plainly, but our ears would hear only the foreign language of heaven; our hearts and minds would not understand its meaning.
When uncertainty rocks your world or your cries to God seem unanswered—stop to listen.  Listen with the ears of your spirit to the voice of the Holy Spirit in His Word.  Perhaps He has answered you plainly already.  If not, remember our limited understanding is only temporary.  Like the disciples, the day will come when we will all exclaim, "Of course!  Why didn't I understand it before?"
About Renée Sanford

Renée has been married to her high school sweetheart, David, for 30 years. They are the parents of three grown and married children and two teens and blessed with six grandkids. Renée has a passion for encouraging mothers at every stage—in an article, at a conference, or over a cup of coffee or tea. Renée is the co-author (with David) of How to Read Your Bible and the notes for the Living Faith Bible.
Now let's link up in community:
 If you don't have a blog, I invite you to visit some great posts from bloggers around the web. As always, I really appreciate those of you who linked up here last week. I loved reading all of your posts. Thank you for taking the time to say hello.
Come inspire us by linking up your wonderful posts here so we all can be inspired. All family-friendly posts such as, marriage, motherhood, crafts, recipes, homeschooling, organization, and more are welcome. If you decide to join the fun by linking up with us, I request that you add Home Educator Mom's button to your posts or site so others can join us as well. You can find the html code in the sidebar, or "save as" copy, and paste the button below on your blog.

If you have a Giveaway, check out my big list of Sites to List Your Giveaways. I personally use this list myself so the links should work.
Hop on over here to see my list of Blog Hops / Link-up Parties to add your link and join others.