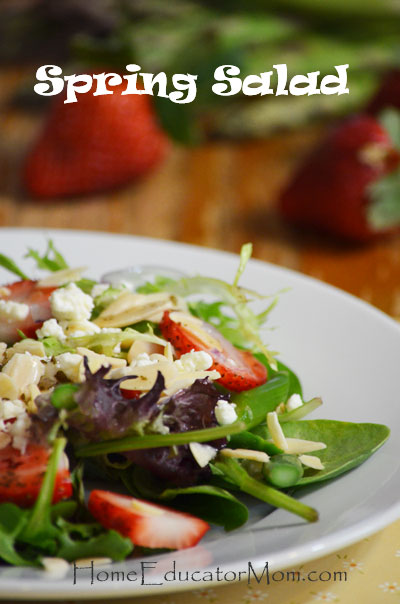 Spring is in the air! And that means fresh vegetables and fruits, two of our family's favorites.  A great way to kick out the winter and kick start spring is to create a Spring Salad, packed with flavors and a spring fresh punch. I recently saw this version of spring salad over at Ruth Simon's GraceLaced which incorporated asparagus and strawberries. I couldn't wait to give it a try. And since then, this easy salad's been our latest favorite.
organic spring mix
organic baby spinach
fresh strawberries, hulled and sliced
trimmed fresh asparagus, steamed until tender but crisp (about 8-10 minutes), then sliced diagonally
red onions, thinly sliced
cucumbers, thinly sliced
crumbled feta cheese
sliced almonds
Raspberry Vinaigrette, Balsamic Vinegar + Oil, Ken's Lite Raspberry Walnut Vinaigrette or my favorite Organic White Balsamic Citrus Basil
Toss altogether. Enjoy!